By Inspark Team on November 15, 2017
Oakton Community College has won a 2017 OLC DLI Award for its use of BioBeyond digital textbook and a grant from Inspark to provide affordable textbook access and increase student engagement for a gateway biology course.
Oakton Community College has earned a 2017 Online Learning Consortium Digital Learning Innovation Awards (DLI) for advancing undergraduate student success through the adoption of digital courseware. Dr. Nicole Perry, Biology chair, Assistant Professors Dr. Kritika Pershad and Dr. Stephanie Blumer, and lecturer Mary Obernesser received a $10,000 Digital Learning Innovation Award for their work in implementing the Inspark Smart Course, BioBeyond. Initial results in course sections using BioBeyond indicate that student success increased 12 percent in a single term.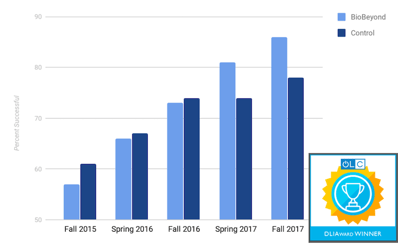 # # #
About Oakton Community College
Oakton Community College is a two-year, public, open-access postsecondary institution founded in 1969, offering baccalaureate, career and continuing education courses to a student body of 10,000 credit and 30,000 non-credit students. Oakton's two campuses in Skokie and Des Plaines, Illinois, serve residents of the eighteen ethnically, racially, religiously and socio-economically diverse communities of northern Cook County, and draw students from beyond Oakton's mandated boundaries, including the City of Chicago. Accredited by the Higher Learning Commission, Oakton's mission is to be the community's college, dedicated first to excellence in teaching and learning, and striving to improve and expand the services we offer in support of the people in the communities we serve.
About the Inspark Teaching Network
The Inspark Teaching Network is a strong partnership between universities, community colleges, scientists, and education experts working to transform science teaching and learning. The network empowers educators and learning designers to collaborate, build, and share next-generation courseware. The courseware harnesses the latest personalized, interactive digital learning technologies, and the learning content focuses on exploring real-world scientific questions to motivate and engage today's students. The Inspark Teaching Network is led by Smart Sparrow and Arizona State University, and supported by the Bill & Melinda Gates Foundation. Learn more at https://www.inspark.education.